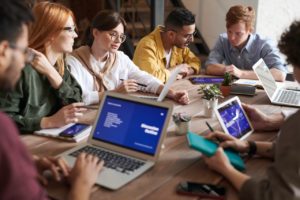 IT consulting is a service that can provide valuable expertise and guidance to businesses in a wide range of industries. An IT consultant is a trained professional who can help you make strategic decisions about your technology, optimize your IT infrastructure, and identify opportunities for growth and improvement.
IT consultants can provide a range of services, including technology planning, system integration, and project management. They can help you determine which technologies are right for your business, create a roadmap for implementation, and ensure that your systems are running efficiently and effectively. Additionally, they can assist in identifying potential security risks and providing strategies to mitigate them, as well as provide training for employees to improve technology usage and increase productivity.
One of the main benefits of working with an IT consultant is the expertise and knowledge they can bring to your organization. They are up-to-date on the latest technologies and industry trends, and can provide valuable insights and advice on how to leverage technology to achieve your business goals. They can also help you identify areas where you can save costs and streamline your operations, while maintaining a secure and reliable IT environment.
Another advantage of working with an IT consultant is the flexibility and scalability they offer. They can work with you on a project basis, provide ongoing support as needed, or help you develop a long-term IT strategy. This means that you can tailor the services you receive to your specific needs, and scale up or down as your business evolves.
In summary, IT consulting can be a valuable service for businesses of all sizes and industries, providing expertise, guidance, and support to help you achieve your technology goals. Whether you need help with technology planning, system integration, or ongoing support, an IT consultant can help you optimize your IT infrastructure, reduce costs, and improve productivity.
Unlock Limitless Possibilities: Aim Higher with Our IT Services.